How to read RSS in 2020
I've been working on a starter blog for people to use with Site.js. We want this blog to have easy-to-use, accessible and rights-respecting defaults so it's simple to just get blogging. One of defaults is RSS feeds. But what if you've not come across RSS before? What are the benefits of RSS and how can you get subscribing?
What is RSS?
RSS is a way to get updates from a website without visiting the site itself. It's particularly useful for getting the latest news from a news site, or blog posts from a blog. The updates are listed in a "feed" which is syndicated (synced) from the website to your "feed reader" of choice.
The feed is accessible from a URL that usually ends in .xml. For example, my site's full RSS feed is available at https://laurakalbag.com/index.xml. If you follow that URL, you might just get the raw XML file, or your browser might render the RSS in a readable format for you. Nowadays it seems most browsers won't render RSS by default, or without an extension, and you'll need a feed reader to read RSS feeds.
A feed reader is a service or app that collects together all the feeds you've subscribed to, and displays them in a readable format. It makes it easy to read the updates from all your favourite RSS feeds in one location, whether that's on the web or using a dedicated feed reader app.
An RSS feed usually contains reverse chronological list of posts each with their date, title, author and content. Sometimes the content is just an excerpt, encouraging you to read the rest of the content on the original site. I think this defeats the point of providing RSS, where a big benefit is that the reader can customise how the posts display in their feed reader to improve their reading experience.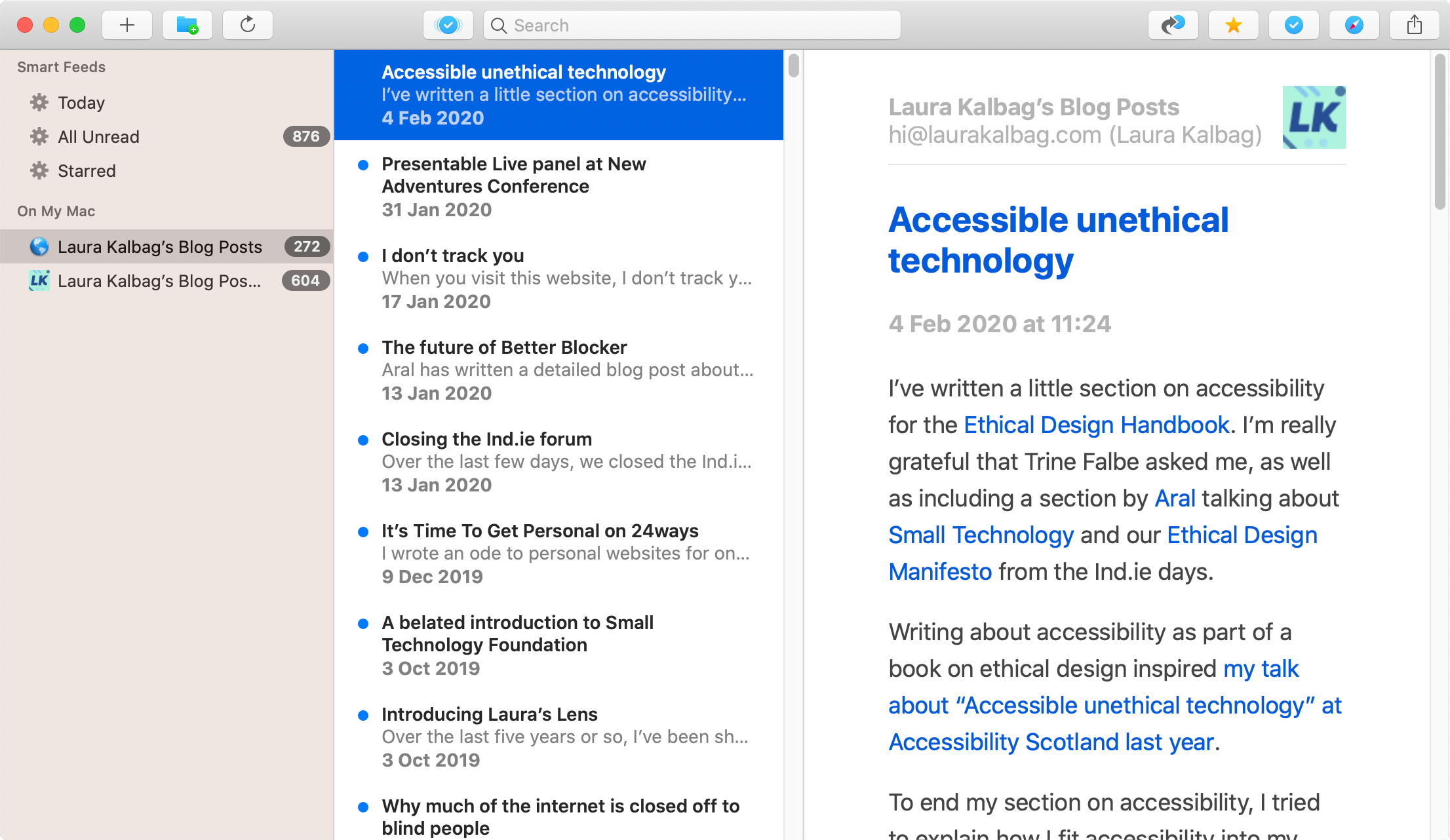 The benefits of RSS
Another big benefit of RSS is that you curate your own feeds. You get to choose what you subscribe to in your feed reader, and the order in which the posts show up. You might prefer to read the oldest posts first, or the newest. You might group your feeds by topic or another priority. You are not subjected to the "algorithmic feed" of Facebook, Twitter, Instagram, YouTube, where they choose the order for you. You won't miss your friends' posts because the algorithm decided to suppress them, and you are not forced to endure ads disguised as content (unless a feed you subscribe to includes ads inside their posts).
Also, RSS does not track you. Not by default, anyway. Sites can often see that their RSS feed is being accessed, and where from, but it is harder to embed tracking into RSS feed content compared to the original website. You should also be aware that some feed readers will use tracking, and it's probably good to find one that does not track you. Feedbin is a good example of a feed reader that doesn't track you, and also curbs tracking from your feeds too.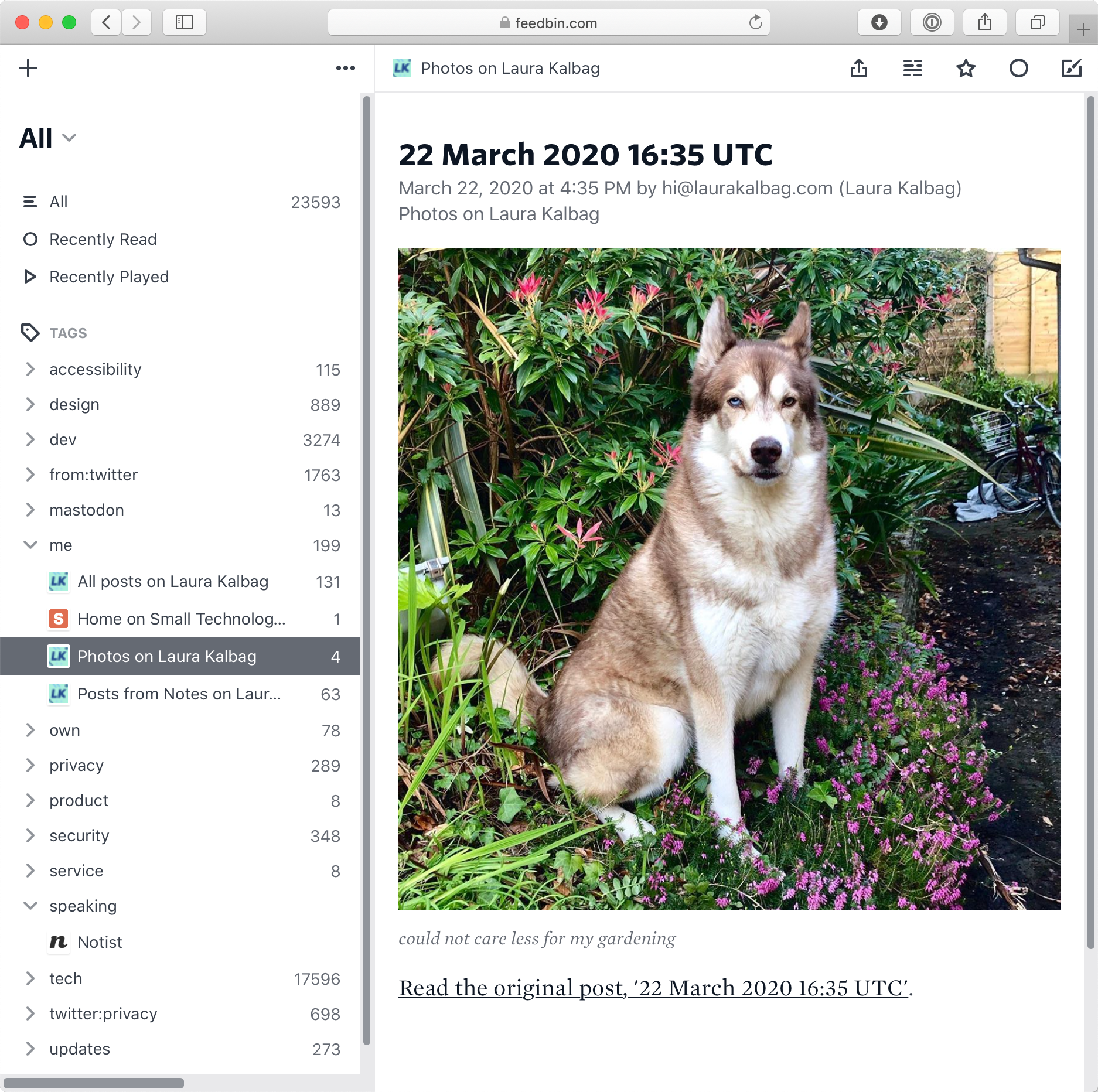 Feed readers
RSS feed readers come in a variety of forms.
Feed reader app. An app where you can subscribe to feeds using a feed's URL. Usually will let you read posts offline once they've been downloaded. Often will require a syncing service to sync your feed subscriptions across multiple devices.
Feed reader service. A web service where you can subscribe to feeds using a feed's URL. You can read posts from any web browser, and can often be used as a syncing service with other feed reader apps.
Browser extension. A browser extension which can identify a feed's URL on any site. Sometimes the extension will also render RSS feeds. Usually it will open the feed in a feed reader app already on your device.
Some feed reader recommendations
There are a lot of feed readers out there. The recommendations below are independent and not supported by ads or tracking (at time of research!) I've also focused on those that are quick to set up and use, not reliant on any other software or specific technical skills.