Web talk dog walk
I walk my dog Oskar every day, no matter what the weather. And usually it's just him and me. So I've got this idea. A "web talk dog walk" where a group of us from the Brighton area can meet on a regular basis (probably fortnightly, maybe monthly) to walk dogs and chat about the web. Do you want to join us?
The first walk is 9am this Wednesday 12th June 2013
The best place to walk in the area (and conveniently near to where we live is East Brighton Park/Sheepcote valley. Asides from at the very start of the route, it's a long way to any roads so it's safe to let the dogs off the lead. The easiest place to meet is on the corner of Wilson Avenue and Roedean Road. I've planned out three of my favourite walks on the map to give you a rough idea of how far we tend to walk. Oskar is a big dog and I walk fairly quickly but we're happy to do shorter slower walks depending on the company and the weather(!)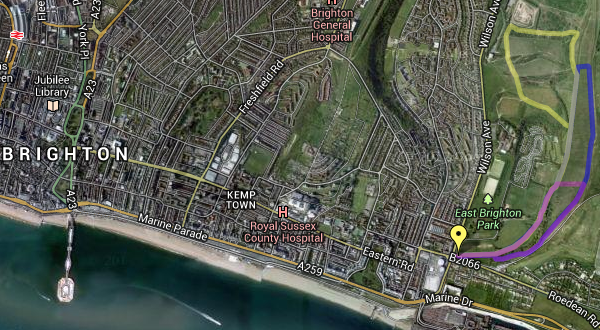 Anyone can join us
No need to bring a dog if you just want to walk and talk
But please bring a dog or few if you've got them, walking with a pack will make it more fun!
You don't have to be a freelancer or professional or even work with the web, just happy to chat
You don't have to come every time, just whenever you fancy it
Oskar gets along with all sizes and breeds, so please don't be intimidated by his wolf-like appearance!
We'll leave pretty soon after 9am so please be on time or be willing to catch us up!
You don't need to let me know beforehand if you're coming along, but I'll know to wait for you if you send me a tweet @laurakalbag beforehand
Wear sensible walking shoes. Trainers should do. It's a fairly mud-free route, but it can be rough terrain and a bit hilly
And now I wait and see if anyone can come along. If this day/time is inconvenient, then I'm happy to reschedule next time!